Whether you are living or visiting Washington, D.C., don't miss your opportunity to see the many world-class events that take place in the city on a weekly basis. Here are just a few D.C. performances you can't miss!
1. National Symphony Orchestra: Pink Martini with China Forbes
This October 26th, at the Kennedy Center, the National Symphony Orchestra will play a pops concert alongside the popular band Pink Martini. Pink Martina, featuring vocalist China Forbes, is known for their wide range of repertoire that spans from classical, jazz, and retro pop. Their eclectic charm and wit will have you laughing and dancing in the aisles of the auditorium!
2. The Book of Mormon
Co-written by the creators of South Park, this particular D.C. performance will have you laughing! The Book of Mormon is a Tony award winning musical based on the misadventures of two Mormon missionaries in Africa. Known for its irreverence and bawdy humor, this musical may not be appropriate for all guests. If this hilarious musical comedy sounds like something you want to see, don't miss your chance for tickets! The show opens at The Kennedy Center on October 24.
3. Our Town
This Thornton Wilder play is a great American classic! Set in a small town known as Grover's Corners, the tale speaks of intergenerational stories of love and loss. Featuring an acclaimed director and cast, this production will make you laugh and cry. The show closes on November 12th, so don't miss your chance to experience this stirring tale of humanity and life.
4. Imagine Dragons
This is one D.C. performance that you don't want to miss! This popular band will be playing at the Capital One Arena on November 5th and tickets are going fast! They will be playing primarily songs from their newest Evolve album, but will likely feature many of their previous hits as well!
5. Washington National Opera: Alcina
This November, the Washington National Opera will be putting Händel's famous operatic tale, one of seduction, magic, and love, to stage. Don't miss this gorgeous baroque operatic masterpiece, full of cadenzas and arpeggios that the period was known for.
6. Mean Girls
This musical comedy based off of the award winning film of the same name will have its world premier at the end of October! This production is was created by a collaboration between writer Tina Fey, composer Jeff Richmond, and lyricist Nell Benjamin. This broadway bound production is something you can't miss while it's in D.C.!
7. An American in Paris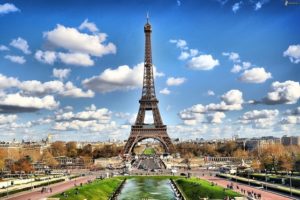 An American in Paris  is a Tony Award-winning musical that focuses on how the aftermath of war has impacted the lives of an American soldier and a French woman. Set in the gorgeous city of lights, the musical is sure to sweep you off your feet with its gorgeous harmonies and romance! It opens December 12th, so don't forget to get your tickets to this fantastic D.C.performance!
8. A Christmas Carol
Finish out the year on a good note! This uplifting story, written by Charles Dickens, will warm your heart with its story of redemption and kindness. This timeless show will play at Ford's Theatre beginning on November 16th.
Thinking About Moving to Washington D.C.? Let Us Help!
As D.C. area experts, we can help you make your D.C. buying or selling process easy! Contact us to learn about available listings or with any of your real estate needs?